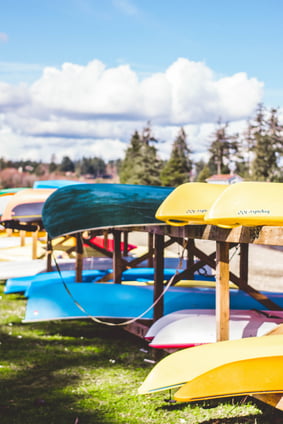 Now is the time to kick your Summer Program marketing efforts into high gear. Digital Marketing, when applied strategically, delivers a large impact in a short amount of time. And best of all - it's all trackable! If your K-12 summer program enrollment needs a lift, check out our top tried-and-true tactics for both day and boarding schools.
1. Retargeting: Re-engage the low hanging fruit
Retargeting, also known as remarketing, enables you to reach families who have already gone to your website, and even more specifically, those who only visited your summer program pages. With your new retargeting strategy, the device that they used to view your site has now been "cookied", so that even after they've left your site, they can see and click on your banner ads, while spending time on other websites.
A few tips when retargeting:
Always point them to a relevant landing page on your site, specifically featuring your summer program opportunities. This is an easy way for them to convert.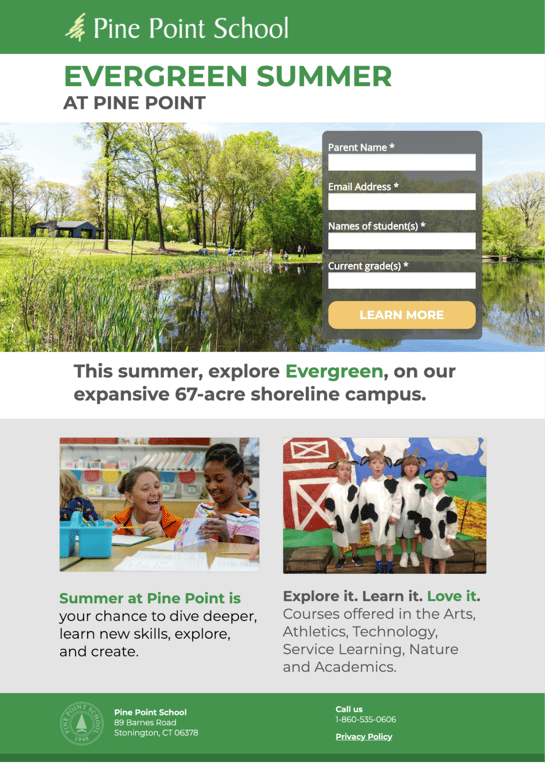 For messaging, keep in mind they are already aware of you - they've already been to your site! Your banners should be focused less on brand and more on the value of the summer program, or reminding them of important deadlines or other calls-to-action most relevant to them this time of year, such as registering. Google Ads and Facebook are both great platforms for retargeting your current website visitors.
2. Email Addresses: Leverage for more than just emails
We know that a multi-step path to purchase is the norm for today's parents - (just check out this fantastic article here!). Email lists provide another opportunity to accomplish an integrated, multi-touchpoint strategy. Facebook accounts require email addresses for the most part, so you can take your list of addresses from past or current summer program inquiries, and find the very same group of people on a new platform, in tandem with your email campaigns. You'll then be able to strategize your marketing plan for this group of people via a new channel.
While not as straightforward as Facebook, you can also leverage your email lists across Google Ads with customer match, empowering you to reach your contacts when they search on Google, YouTube, or while using Gmail.
3. Optimize your Google My Business Property (it's free!)
Often after submitting a search query through Google, the results page displays a knowledge graph on the right hand of the screen, listing the basic contact information, ratings, and more, That collection of information is also known as "Google My Business". Once your institution is verified, you can leverage Google My Business for great insights, like the top zip codes leading to clicks, directions or phone calls, and use this to frame where you reach out with marketing. In addition to some great data, you can use Google My Business as a marketing tool. Do so by updating all of your summer program information, freshen up your images to include summer program pics and even add video! Don't forget about posts. Google My Business Posts are free opportunities to showcase your upcoming summer program. The best part is that all of these features are free!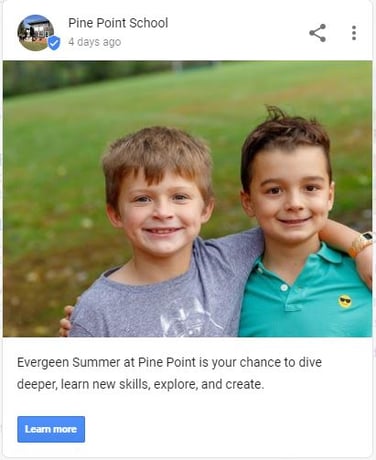 4. Mobile Location Target users at specific schools and buildings
While efforts are underway to actively yield summer program prospects to those already aware of you, it's equally important to drum up awareness for next year or even bolstering numbers for this year, too. Mobile Location Targeting can make a splash with summer program ads relatively quickly. How does Mobile-Location Targeting work? Different than simply geotargeting a specific region, and sending ads to anyone within that area via Google Ads, Mobil Location Targeting works by targeting smart-phone and tablet users who are actively in-app and have GPS enabled. This targeting occurs within a very specific area - as precise as 3 feet! With access to a platform that supports this technology, schools can geofence feeder schools or buildings where typical parents work, etc. You can then layer in additional demographic and behavioral targeting too, to be sure only those in line with your audience are viewing ads. Once targeting is in place, you can reach those users on that very same device for several weeks, even after they've left that location. Consider Mobile Location Targeting a way to go market more accurately, (and trackable!) than the standard billboards or flyers.

5. Heat up your Organic Social Media
Hopefully, you stockpiled some vibrant photography and video from last year's summer program. Now is the time to post #throwbacks and #flashbacks of last year's summer programs, while families are full planning mode and also spending time on Facebook, Instagram and Twitter. If you have a parent ambassadors group encourage them to share your organic posts around upcoming summer programs and solicit summer program reviews on Facebook. If there is a budget for advertising on social media, consider boosting posts on Facebook so you can ensure your followers and their friends are aware of your summer program offerings. Don't forget to invite people who engage with you to like your organization's page! These social tactics are a great way to amplify how you're already communicating with your followers & their network.
6. Generate leads with Facebook & Instagram Ads
Facebook and Instagram are very effective sources of driving leads for businesses, schools, and organizations. With Lead Ads specifically, the advertiser's native form is viewable (and fillable) while users spend time on the Facebook or Instagram app. This allows people to see your ad, and then engage with it by clicking, liking, or providing their information – all without leaving their social media app! When someone clicks to expand the ad, a lead-generation form will be displayed, allowing you to ask for their name and email address. These leads can be downloaded daily, or weekly, and nurtured by your marketing and admissions team, as you would with any other inquiry. EMG's Independent Schools tend to see anywhere between 5 and 25 leads per month with lead-gen ads, depending on geography and budget. In addition to lead-gen ads, Facebook behavioral targeting is a great venue for bolstering your brand, and also sending folks to your summer program page, or custom landing page to learn more.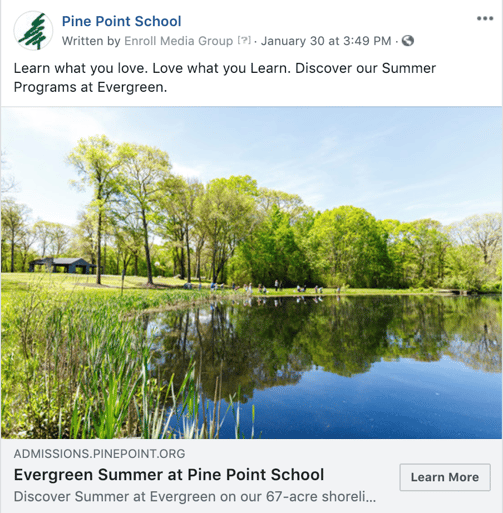 7. Ramp up your Paid Search
Grab the attention of the prospective families at the exact moment they are looking for you, or similar summer programs, with Google PPC. If you already have a Google Ads campaign, this can be as easy as adding in a campaign and ad group to your existing brand or non-branded efforts, Make sure you do your keyword research first! Google's Search Console, Google's Keyword Planner, or Moz keyword research tools are great places to start assessing how accurate and viable your keyword strategy is so you can make the most of your time and budget at launch.

Not any single one of these tactics will be a silver bullet for you. Rather, a multichannel, multifaceted strategy will ensure your school or summer camp is accounting for all digital touchpoints in the enrollment process. From browsing and inquiring, to applying and enrolling, you can have a big impact on parents at every stage, which will in turn, drive more results.
Need help crafting a custom campaign for your summer program? Now's the perfect time to partner with Enroll Media Group to launch a cost-effective Summer Program Campaign that addresses all of your organization's needs.
Follow Angie on Twitter @AngieMayWard