Landing pages are one of the most important elements of a digital marketing campaign. A landing page is a simple, standalone page that gives users relevant information, provides a call to action (eg: form), and allows them to quickly and seamlessly convert.
However, when it comes to school pay-per-click (PPC) marketing, landing pages are often missing the mark on a few key items that can make or break a campaign.
Here are some steps you can take to optimize your landing page, drive conversions, and maximize that paid click.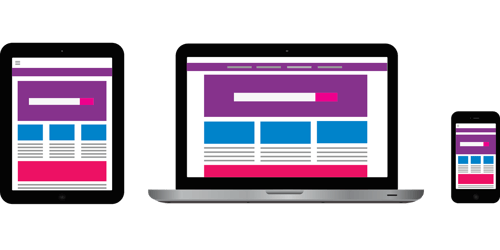 Choose a reliable platform
First of all, you never want to send people to the homepage or a different internal sub-page of your website. There are far too many distractions, like navigation menus, and the content isn't directly related to the ads so there's no clear call-to-action for that user.
It is strongly recommended schools create a standalone, dedicated landing page built on a platform that allows for easy changes to the content, layout, and page load speed, and is geared towards an optimized user experience and conversions. At Enroll Media Group, our favorite platforms include Unbounce, HubSpot, LeadPages, and even WordPress.
Include important keywords
When writing content for your landing page, always include important keywords that you're also bidding on in your Google Ads campaign. There should be no surprises when users click on a Google Ad and visit a landing page– the content and messaging should be consistent. Including keywords will also help with your Google Ads quality score, so your ads are showing up more often and in front of the right people, for less!
You should also assume that landing page visitors are unfamiliar with your school. Include basic information about your school's location, grade levels, programs, unique selling points, and upcoming admissions events (if applicable), with photos/videos of students participating in a variety of activities. All of these sections provide a great opportunity to layer in keywords too. This content should be concise, valuable, and encourage people to fill out the form so you can get them into your enrollment marketing funnel sooner.
Have a clear call-to-action (CTA)
In addition to valuable content, one of the most important components of a landing page is a clear and compelling call-to-action (CTA). CTA's encourage landing page visitors to take the desired action like filling out a form. This conversion action maximizes your Google Ads budget because Google can then optimize your campaign's dollars, to show ads to the most relevant audiences likely to convert or provide their information to you.
We recommend creating a CTA that is in line with your enrollment marketing goals. Things like scheduling a tour, signing up for an info session, or registering for an open house are all examples of calls to action. Use buttons for your CTA so that those next steps stand out, and anchor them all to the form. CTA buttons include Learn More, Get Started, Explore/Discover [School Name], Register, and Inquire. (If you're unsure of how to set goals and calls-to-action for your Google Ads campaign, check out this blog on Google Ads for Enrollment Marketing)
Keep the form short
When creating a form for your landing page, we recommend only asking for the most important information that's needed for a follow-up. If the form is too long, there's a higher chance that users will abandon the page before you have a chance to collect their contact information. Additionally, including a clear call-to-action directly on the form (and throughout the landing page) will help drive more conversions.
Here's a screenshot of a short, effective form on a Google Ads landing page: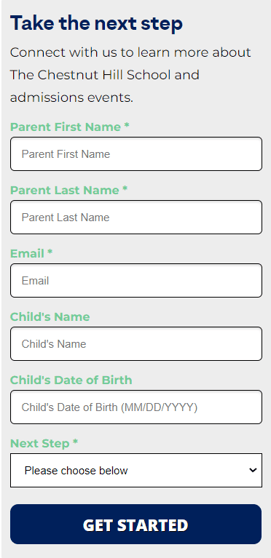 Keep user experience in mind
Our data shows that most users view landing pages on their phones. So, before launching an ad campaign, make sure the page is mobile responsive, meaning the layout is formatted correctly in mobile view. The form should be located above the fold, with call-to-action buttons placed throughout the page to direct users back to the form. This will reduce page drop-off and further encourage users to convert.
Resizing images and graphics should also be a priority when designing a landing page to help with loading speed. If the page takes too long to load, then people will abandon it! Check out your landing page's speed with this free page speed insights tool from Google.
Track, Optimize, and Repeat
Landing pages are not set-it-and-forget-it. You must optimize continually for conversion rates - after all, that's the point of spending money on Google Ads! Use Google Analytics for insights on user behavior. You can even layer in a heat-mapping tool to see where users spend the most time on your landing page (we love Crazy Egg or Microsoft Clarity!). Some landing page platforms have their own analytics and A/B testing tools. If not, Google Optimize is a free tool you can use to A/B test different features of your landing page such as form length, videos, photos, and more.
If you'd like to discuss a landing page strategy for your school or organization's digital advertising efforts, let us know. We would love to help!