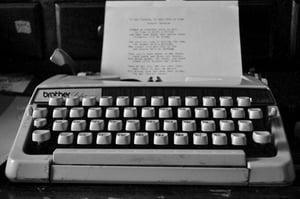 While schools have increased their Google and Facebook investments in the last few years—and for good reason (people often use and convert on these platforms)—print still has a share of wallet. In fact, print campaigns impact PK-12 enrollment at each stage of the funnel – from awareness and events to applicants and beyond. Here's why high-quality, well-timed print campaigns are still very much alive and breathing fresh air into the enrollment marketing world.


Today, it's all about an Integrated Strategy
We know multiple touchpoints are essential for reaching more people, as well as improving memory recall and brand recognition, all of which help conversion rates. That's why it's critical to optimize your website and your social media presence, while also leveraging videos, paid search and display campaigns to allow for surround digital strategies for optimal results. Here's why print still works as part of that equation:
Print amplifies touchpoints and awareness
Utilizing a multi-platform approach with precision targeting and timing that's coupled with top-notch creative messaging and calls-to-action create the perfect recipe for enrollment growth. Since websites are now where the bulk of PK-12 research, engagement, and lead generation happens, it's often the call-to-action on direct mail like postcards, brochures, viewbooks, and even other traditional advertising methods like billboards, newspaper ads, and radio. So while these traditional ads increase the touch points a single user has, they also help drive that next interaction, which is generally online to learn more about something.
When awareness is stronger, so is the intent behind search
All of these traditional touchpoints give your brand exposure and drive people to pick up that smartphone or computer to conduct a search. And we know from data that when an online query is conducted with a brand name (i.e.: those who have your school name in their search!) the intent is much stronger behind that click, which maximizes the organic or paid listing. Plus, the stronger the intent, the higher the likelihood of converting. What's more, is that brand searches are often cheaper than a non-branded search, so you pay less to get the conversion!

Millennials love stories
Millennials—who are the fastest growing parent audience for PK-12—want authentic storytelling in the marketing materials they receive from your school. The beauty of storytelling is that it invokes emotion while inspiring action.
Print tells a story
Printed material, like magazines and or viewbooks, are great platforms to tell a personal story about your students, your community, and the outcomes of an education at your school…
Millennials still love print!
Storytelling coupled with a quality tactile experience (pages people can feel) creates an even stronger connection to your brand. And according to a study conducted by Economic times, turning those printed pages (as opposed to reading things electronically) is something that millennials still love to do! Millennial participants in a study about the preference of reading a print piece versus a piece on an electronic reader said they are emotionally attached to physical print which created a "sense of self and belonging".
Similarly, the Direct Marketing Association (DMA) analyzed Bizo and Epsilon data and found that direct mail achieves a 4.4% response rate, compared to 0.12% for email. Overall, the DMA found that direct mail response rates are actually anywhere from 10 to 30 times higher than that of digital. Forbes goes on to explain that consumers, overwhelmed by inboxes cluttered with unsolicited marketing emails, are more receptive to direct mail, which arrives on a much less-cluttered channel…. busting the myth that everything in the mail goes to the recycle bin.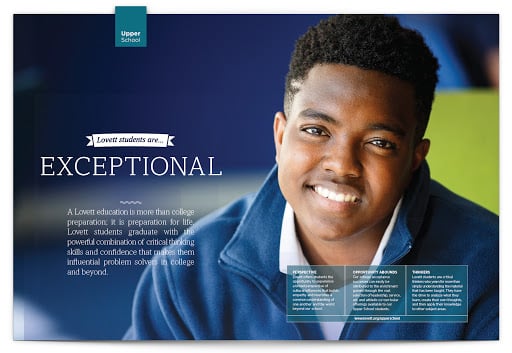 Technology improves print campaigns
Gone are the days of wondering if a newspaper ad or postcard was effective based on the highly popular 'how did you hear about us?" survey. While those have their place—so does technology. And things like vanity URLs, Google Analytics and keyword research tools provide advertisers with a way to track impact and optimize content.
How can I track my print campaigns?
Use Memorable Vanity URLs & QR Codes
A vanity URL is a descriptive, memorable and pronounceable URL also known as branded link or a custom short URL. They contain a brand-related domain name or a relevant keyword for your school. These URLs can be used on channels like social media, emails, print, radio ads, and even billboards. They help ascertain the value in specific calls-to-action, so you can see how your marketing initiatives are all working together to drive visits to (and conversions on) your website or custom landing page. We've seen vanity URLs & QR codes used the day a campaign starts and as late as weeks (or even months) after a print piece has dropped—which reminds us about another benefit of print: it has a shelf life too!
Look out for Trends in Your Google Analytics
Take note of the number of sessions resulting from a vanity URL source, as well as what those users do once they arrive. Keep in mind that most people will take notice of your brand via print or broadcast, but choose to "Google" your school on their own instead of following the desired vanity URL protocol. This is why you will want to take a look at other metrics, like dips and spikes in traffic. Get in the habit of throwing an annotation in your Google Analytics account to ensure you have a nice reminder of when a major print material dropped. This will account for analytic trends in those reports without needing to jog your memory of why that may be.
Conduct Keyword Research & Analysis
Keyword research is key for driving content on the web, but why not use it for inspiring your print copy as well? Conduct keyword research to see what types of questions, concerns, and information people are looking up around your school and schools in general. Use this data to help ensure you address these topics and concerns in your print material. And if possible, repurpose some of your print online by creating virtual viewbooks or other interactive media. Then circle back to your analytics to track any increase in search query traffic for those terms to see if the volume is there and if you are ranking. Some great tools to use are Google's Search Console, and Keyword Planner. At Enroll Media Group, we also love Moz KeyWord Explorer and Keyword Keg.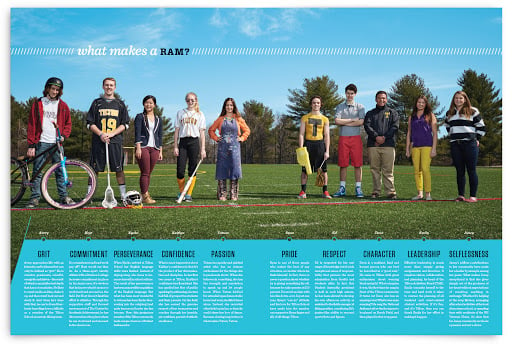 How do I integrate my online and offline marketing? Examples Please.
Now that you know that print is alive, effective (especially when done in concert with digital), and trackable online, here are some ways schools can tie print with digital:
Drive awareness & inquiries with Geofencing & Print
With mobile location-based targeting, schools can Geofence an area—such as specific buildings where prospective parents work, community centers, feeder schools, or fairs—and serve mobile ads to the devices that go in an out of that geofence perimeter. It's a perfect digital campaign to leverage in tandem with any brochures or postcards supplied to these areas.
Increase Open House Attendance with Direct Mail and IP Targeting
If you have a list of inquiries or a purchase list, plan your direct mail postcards in tandem with IP targeting banner ads into the homes of those very same addresses. This provides two touchpoints for a single user to engage with around the open house communication. The print piece serves as a notice about the event, whereas the IP targeted banner ads serves as a reminder about the event and reinforces the brand—even after the event.
Improve Yield with Video & Viewbooks
A YouTube campaign with content tailored to those with strong intent at the key decision-making phases will drive an emotional response to improve yield when you need it the most. Get the message out there by emailing the video to your list of accepted students, while also bidding on search terms right within YouTube. Timed with mailing a printed yield package to applicants who haven't deposited, will boost those getting to the website or conducting those video searches. This will cater to the 'storytelling' desire prospects need at this stage in the funnel.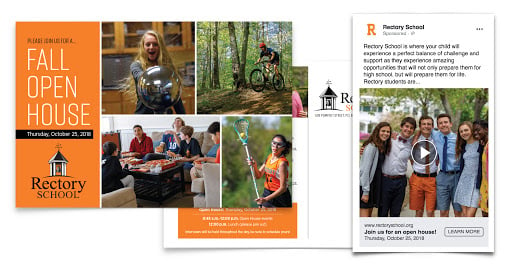 Increase Fundraising and Development with magazines and Retargeting
Similarly, your annual giving digital campaign should go hand-in-hand with your alumni magazine or annual giving brochure. The print piece can tell the story of who the donation will help, and can prompt donors to visit the website, where they can watch a YouTube video that furthermore tells a story and moves them to donate. If they leave without donating, they can be retargeted with 15-second video ads on both the Google Network, as well as their Social Media accounts, with an easy call-to-action to donate from there.
Sound like a lot? If you need help effectively driving enrollment in your school, talk to Enroll Media Group. We will help you coordinate the online and offline strategies, bring the best and brightest on board to help produce, launch, execute and track it all, so you can rest assured, all your marketing is breathing life into your enrollment.
* All creative assets featured in the blog were designed and produced by Square Spot Design.
Follow Angie on Twitter @AngieMayWard